Search for Organist / Choir Director
Zion Evangelical Lutheran Church (ELCA) is actively searching for an Organist / Choir Director to participate in the Music Ministry for our church in consultation with the Pastor and other team members in a way that is consistent with our mission, values, and theology including but not limited to the Lutheran liturgy. These will be Part-Time positions here at Zion. If you or someone you know would be interested in the position, see the following for more details
See Job Description for ORGANIST / CHOIR DIRECTOR.
Please email Inquiries, Resumes and References to: This email address is being protected from spambots. You need JavaScript enabled to view it.
OR postal mail to: Music Ministry Search, Zion Lutheran Church, 47 Hanover Street, Glen Rock, PA 17327
Gethsemane Inter-Generational Choir
The Gethsemane Choir (named for the prominent stained glass window in the sanctuary) is our 15-voice inter-generational choir under the direction of our Music Director here at Zion. The choir performs regularly during worship services between September and May and also during occasional special events.
Typically, the choir will practice on Thursday evenings, and participation is open to persons of high school age and beyond. New voices are always welcome, regardless of musical ability.
If you are interested in taking part, see any member of the choir on any given Sunday. The choir will be delighted to hear from you.
Our Allen BRAVURA Organ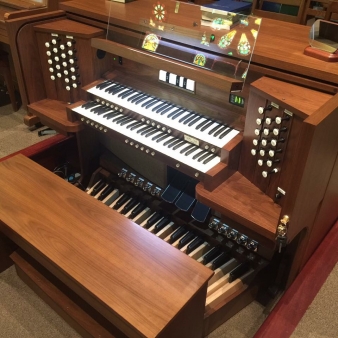 Zion recently purchased a new two manual Allen Bravura Digital Church Organ complete with a touchscreen MIDI console controller.
Our Allen BRAVURA™ Series organ provides pipe organ sound and advanced features. Our organ with Renaissance™ technology is the product of years of advancements in digital sound and control techniques by the Allen Organ Company. This system represents the apex of digital technology applied to exacting musical tasks. This outstanding instrument has many attributes that make it a blessing for this congregation. Check out the following Stop List.
2 manuals – 32 stops – Digital Console Controller
PEDAL:
32 CONTRA VIOLONE
16 PRINCIPAL
16 BOURDON
16 LIEBLICH BOURDON (SW)
8 OCTAVE
8 FLUTE
4 SUPER OCTAVE MIXTURE IV
16 BOMBARDE
4 CLARION
GREAT TO PEDAL
SWELL TO PEDAL
SWELL:
8 ROHR BOURDON
8 VIOLE
8 VOIX CELESTE
4 GEIGEN OCTAVE
4 TRAVERSE FLUTE
2-2/3 NASARD
2 PICCOLO
1-3/5 TIERCE
PLEIN-JEU IV
16 BASSON
8 TROMPETTE
8 HAUTBOIS
TREMULANT
GREAT:
16 VIOLONE
8 PRINCIPAL
8 HARMONIC FLUTE
8 FLUTE DOLCE CELESTE II (SW)
4 OCTAVE
4 FLUTE
2 FIFTEENTH
MIXTURE IV
8 TRUMPET
TREMULANT
CHIMES
SWELL TO GREAT
GENERAL:
BASS COUPLER
MELODY COUPLER
ALTERNATE TUNING
TREMULANTS FULL
MIDI VOICES IN CONSOLE CONTROLLER