Nick Galinaitis, Music Director
I'm Nicholas Galinaitis, a native Marylander from Taneytown and the Music Director here at Zion Lutheran Church since 2018.
I'm a person of many interests, but perhaps the most important to me is my commitment to music. I'm a composer, pianist, organist, and choral director, and I currently study piano with Dr. David Kreider in Westminster, MD.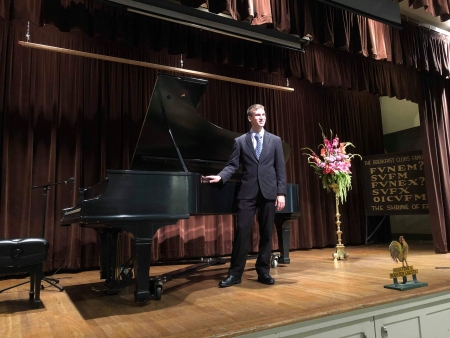 My other hobbies include reading classic literature, writing poetry (some of which has been published notably in the Cimarron Review) and performing in recitals.
My recent performance venues have included the Arts for Hearts' Sake Concert Series in Baltimore, MD, and the Los Angeles Breakfast Club in Los Angeles, CA.
Enjoy a selection of hymns played and sung by Nick and find out where you can enjoy more of his work.
Gethsemane Inter-Generational Choir
The Gethsemane Choir (named for the prominent stained glass window in the sanctuary) is our 15-voice inter-generational choir under the direction of our Music Director here at Zion. The choir performs regularly during worship services between September and May and also during occasional special events.
Typically, the choir will practice on Thursday evenings, and participation is open to persons of high school age and beyond. New voices are always welcome, regardless of musical ability.
If you are interested in taking part, contact Nick Galinaitis (This email address is being protected from spambots. You need JavaScript enabled to view it.) or see any member of the choir on any given Sunday. Nick and the choir will be delighted to hear from you.
Our Allen BRAVURA Organ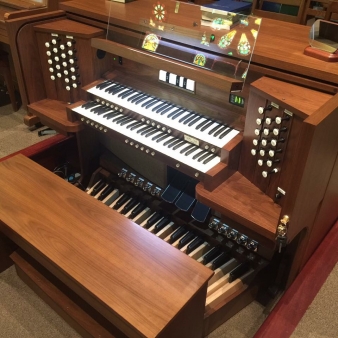 Our Allen BRAVURA™ Series organ provides pipe organ sound, advanced features, and incomparable value, and that's just the starting point. Our organ with Renaissance™ technology is the product of years of advancements in digital sound and control techniques by the Allen Organ Company. This system represents the apex of digital technology applied to exacting musical tasks. This outstanding instrument has many attributes that make it a blessing for this congregation. Check out the following Stop List.
2 manuals – 32 stops – Digital Console Controller
PEDAL:
32 CONTRA VIOLONE
16 PRINCIPAL
16 BOURDON
16 LIEBLICH BOURDON (SW)
8 OCTAVE
8 FLUTE
4 SUPER OCTAVE MIXTURE IV
16 BOMBARDE
4 CLARION
GREAT TO PEDAL
SWELL TO PEDAL
SWELL:
8 ROHR BOURDON
8 VIOLE
8 VOIX CELESTE
4 GEIGEN OCTAVE
4 TRAVERSE FLUTE
2-2/3 NASARD
2 PICCOLO
1-3/5 TIERCE
PLEIN-JEU IV
16 BASSON
8 TROMPETTE
8 HAUTBOIS
TREMULANT
GREAT:
16 VIOLONE
8 PRINCIPAL
8 HARMONIC FLUTE
8 FLUTE DOLCE CELESTE II (SW)
4 OCTAVE
4 FLUTE
2 FIFTEENTH
MIXTURE IV
8 TRUMPET
TREMULANT
CHIMES
SWELL TO GREAT
GENERAL:
BASS COUPLER
MELODY COUPLER
ALTERNATE TUNING
TREMULANTS FULL
MIDI VOICES IN CONSOLE CONTROLLER