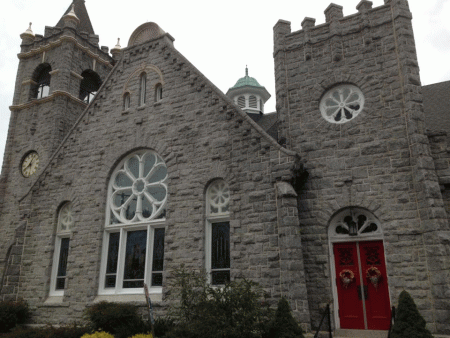 Dear Zion Family,
Once again thank you for your patience and understanding as we navigate the COVID-19 pandemic together. Due to increasing positive cases in York County, on 7/16/2020 the Lower Susquehanna Synod sent a directive to not hold indoor worship with more than 25 people or more than 25 percent of the meeting space's capacity, whichever is lower. Out of an abundance of care, your council has decided to abide by this guidance and called a special meeting on Saturday, 7/18/2020, to see how we can accommodate worship should we have more than 25 congregates who arrive at our doors. We are pleased that we came up with a plan. Here is what you can expect:
ARRIVING:
When you arrive for 9:00 am worship service an usher will greet you outside the church at one of two locations – Hanover Street and Water Street handicapped door. Masks are required. If you are unable to wear a mask due to medical reasons, please sit in the section closest to choir loft. Children under age two are not required to wear a mask. When the usher tabulates that 25 attendees have entered the sanctuary, they will ask the subsequent arrivals to be seated in the Social Hall and worship with council members who have volunteered to sit there to free up space in the sanctuary. The doors to the Social Hall will remain closed. The service will be broadcast into the Social Hall via speakers.
SERVICE:
Anyone who uses the microphone during the service will disinfect it with a sanitary wipe immediately after they use It and before someone else uses it.
EXITING:
When the service is concluded, promptly exit the church keeping six feet apart and socialize outside. Please refrain from mingling inside the building. Those who worship in the Social Hall will exit through the kitchen doors. Congregates who worship in the sanctuary will exit the door they entered. The Courtyard is a shady place providing a serene social time. Please maintain six feet social distancing in The Courtyard. Masks are required outdoors if a six foot social distance cannot be maintained.
Our primary motivation in restricting our indoor gatherings for worship is the care of our congregation members and our neighbors. We are making every effort to keep you safe and will re-evaluate as the pandemic takes its course. Consider a virtual service if you are not ready for an in-person experience. If you are sick in any way, tested positive for COVID-19, or have been in contact with someone who has COVID-19 in the past two weeks, please stay home.
Council will continue to monitor our efforts to offer in-person worship and will re-evaluate our plans based on infection rates. We welcome your feedback and questions. Please contact any council member to discuss your concerns. Stay well and peace be with you.
Peace be with you,
Zion Council